update
: please go to this journal:
feeshseagullmine.deviantart.co…
for leftovers
Pre-order has been extended to July 30th
but here's the deal: if you're hoping to pick it up at otakon (please make a note of that in your order), you have to pre-order by the 15th. augi will have extra copies with her there too, but if you would like to secure one, please pre-order. If by any chance the shipping gets delayed and it doesn't get there in time for otakon, we'll update more on that here. Lulu has been pretty punctual on these shippings, but you never know o.o
Also, we will have to place orders after the 15th on the 2nd shipping batch--so it will be shipped out after july 30th.
also, a good question was asked--the book is perfect-bound. slap me for forgetting to put that in.
All profits made in the sales will be donated to the
Japanese Salvation Army
. The art book will feature the following artists:
6oclock
6oclock.deviantart.com/
aiki-ame
aiki-ame.deviantart.com
ameru
ameru.deviantart.com/
Arc Chen
arcchen613.blog125.fc2.com/
ashiong
ashiong.deviantart.com
augi
augipaw.deviantart.com/
Feesh
feeshseagullmine.deviantart.co…
catgirlkari
catgirlkari.deviantart.com/
ehwhy
ehwhy.deviantart.com/
electrixocket
electrixocket.deviantart.com/
Emruki
emruki.deviantart.com/
Erik Eng
Gina Chang
ivette-t
ivette-t.deviantart.com
kou-chann
kou-chann.deviantart.com
hakuku
hakuku.deviantart.com
hakumo
hakumo.deviantart.com
Itasugen
itasugen.deviantart.com
Lekker
lekker.deviantart.com
mou-S
mou-s.deviantart.com
mayuiki
mayuiki.deviantart.com/
pochi-chan
pochi-chan.deviantart.com/
takoballs
takoballs.deviantart.com
Terra
hooooon.deviantart.com
1-kilometer
1-kilometer.deviantart.com/
sakissnow
sakissnow.deviantart.com/galle…
tofuburgers
tofuburgers.deviantart.com
waxeecap
waxeecap.deviantart.com
winterfingers
winterfingers.deviantart.com
xephonia
xephonia.deviantart.com/
Samples: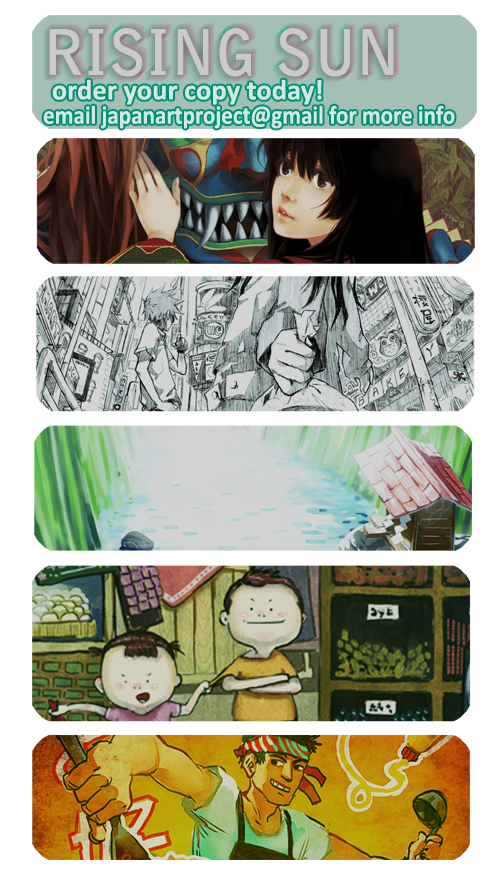 test print sample:
artist pages
Book information
:
Full color
pages:
44
price: $20 USD
dimensions: US letter 8.5"x11"
perfect-bound
Shipping information [priority mail, padded envelope]
Domestic US: $4.95 USD
Canada/Mexico: $11.95 USD
Other countries: $13.95 USD
First class mail for international shipping upon request ($8 for most countries)
Order form
Please send an email titled
Rising Sun order
to
japanartproject@gmail.com
with the following information:
Name:
Address:
Country:
Paypal email:
# of Copies:
We will reply to your email in a day or two with payment information. Once we receive your payment, we will give you an order #.
IMPORTANT- please read
*we only accept paypal
*this is a pre-ordering event--- the books
WILL NOT
be shipped until
late july
*we are not responsible for lost packages
*do not note or comment for orders, please email!
*please keep your order #. It will be easier for us to refer to.
*please send in your payment within a week or so.
*tracking is NOT available for first class mail.
please send

or

a note if your email did not receive a reply within 48 hours.
****
Preorders end on July 15th
****
Thank you for reading, and please comment here or send us a note or email if you have any questions!
A huge thanks to all the participating artists. This would not have been possible without you guys!
if you could help spread the word, we would love you forever 8D
for more information on the 0311 eartquake in Japan:
www.bbc.co.uk/news/world-asia-…
how else you can help:
newsfeed.time.com/2011/03/11/f…